The bedtime story is one of those parenting traditions that endure over the years. Many of us have fond memories of sharing a bedtime book with our own parents, and now do the same with our children. In fact, new research from Uber shows that 70% of the parents these days value bedtime stories as an important part of their baby routine. So what are the benefits of bedtime story to your baby? Let's find out
Help You and Your Baby Build Your Bonds
In today's modern life, parents often do not have much time to stick with their children all day. Therefore, reading stories for babies to sleep in the evening is the best time for parents to interact and relax with their children, helping to bond with family feelings. Research has found that more than half of the parents who read bedtime stories use books as a way to get their children to open up to them to find out how they're feeling and spark conversations. While 54% of parents believe setting time aside to read to their children at bedtime brings them closer together and is vital for their bonding time.

Help Your Baby Forms Good Sleep Habits
If your baby is still young, going to bed on time may be a little problem. Different factors may make your little ones feel uncomfortable or insecure, which makes them harder to fall asleep. Therefore creating a cozy and comfortable environment for them at bedtime is very important to help them form their sleep habits. By telling them stories when they are in their bed, you will soothe your baby down and make them better. Your loving and familiar voice will create a safe atmosphere around your baby. They will know that you are with them and sleep better.

Bedtime Story Encourage Your Baby's Interest in Reading 
As your baby learn their skills by mimicking your actions, reading bedtime stories to them regularly will be a good way to help them learn to read, In fact, it often sparking a lifelong love of books in children. A bedtime story is also a good opportunity for shared reading, for example taking it in turns to read a page – or a paragraph, depending on your child's ability. This will give your baby a daily opportunity to practice reading, while also benefiting from being read to.
A Good Chance to Improve  Your Toddler's Knowledge
Instead of the common fairy tales or fables for your children's sleep, you can alternate with other kinds of books to help your baby learn more about their surroundings wold. With children, there are so many things that they want to discover. Therefore, reading books for them will provide a huge amount of interesting knowledge. You can try to read books about science, animals, house, or anything around your baby.
Bedtime Story Teach Your Baby many Useful Lessons
If you teach your baby moral and humanitarian lessons in a normal way, you will not be able to understand them all. Therefore, fairy tales, fables with moral lessons will help you to teach your baby about courage, honesty, humble, and kindness. Your child will learn about love, family, friendship, and how to help others. In addition, reading stories for your children also helps them acknowledge how to handle situations that they may encounter in real life. Situations in the story will be a lesson to help children not be surprised when encountering similar situations in real life.

A Start for Your Baby Communication Skills
At the age of 1 – 3, your baby will develop rapidly especially their brain. They will learn different skills in this period. Talking is one of the key skills. Your baby will learn how to talk by stimulate your sound and mouth movements. By reading bedtime stories out loud as well as talk to your baby regularly, you will help their communication skills improved. Their vocabulary will be expanded, they will learn how to make conversation and their listening and pronunciation skills will also be boosted.

Stimulate Your Baby's Imagination
Storytelling for a good night's sleep is much better than letting children watch cartoons with vivid images and sounds. The reason is that reading stories helps stimulate a child's imagination about the characters and the things going on around the story better. Unicorns, wizards, fairies, and monsters. Books open up whole new worlds to children, both real and imagined, and sharing a bedtime story will take them to places they'd never have dreamed of.

Bedtime Story Improve your child memorizing ability
While reading bedtime stories to your baby, you can try to ask them what have they remembered after the stories end. Ask them about the previous stories each night you read for them. By doing this repetitive activity, you will help your child train their memory. It also a good way to train your child's focusing ability as they try to focus and remember the details of the stories. Thereby, it will somewhat prevent your baby from ADHD.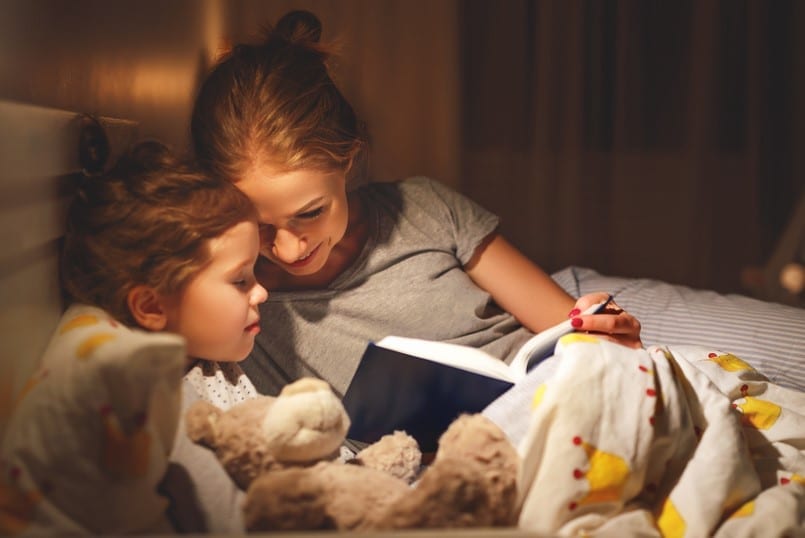 There you go, now you have the benefits of bedtime stories to your baby. Do you have any great stories or fables that your child's love? We'd love to know in the comments