Summer is just around the corner and you can't wait to hit the beach. But don't forget stylish swimsuits for your toddler and all these essential things!
Going to the beach with a baby or toddler is a lot of work. There are so many things to pack, carry, and keep track of. But trust us, it is completely worth seeing your little one experience something new and exciting for the first time. You will love all the giggles, splashes, and sandy little toes. To make sure that your kiddos have their best time at the beach, you need to plan your family's outing carefully. Sunscreen, towels, snacks, your baby swimwear, and much more are the things that should be packed. So based on our own experience, here are the essentials you need for the trip to the Beach with your Toddler.

Beach Towels
This one is a no-brainer. You will need more than one for drying off your body or laying on the sand. You should include one per family member because no one wants to share their wet towel.

Sunscreen
Everybody wants to come home with seashells and good memories, not sunburn. Sunburn can cause serious problems for your toddlers, including discomfort, fever, and skin diseases. Kids' skin is delicate and should be protected regardless of complexion. Therefore, it's important to apply sunscreen to your family members' skin before and during beach time. Leave one bottle in your room and use it before you leave in the morning. Take another along to the beach and reapply as needed. Don't forget lip balm with SPF as well.
First Aid Kit and Bug Spray
Besides sunscreen, it's good to be prepared for other small ailments and injuries. You should always keep a kit in your car and take a small one along when you travel. Additionally, most beaches have bugs. Protect yourself and your kids from biting flies, sand fleas, mosquitoes, and ticks.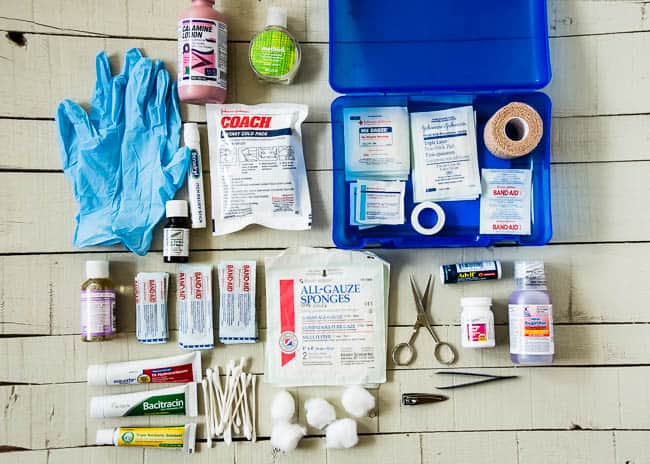 Swimsuits/Baby Swimwear
If you're planning to spend a whole week at the beach, you should pack at least 2 swimsuits per family member. That way you will always have a dry one to change into. Of course, your baby and toddler are no exceptions. There are plenty of baby swimsuit sets with long sleeves that can be used as rashguards for your kids. They cover up more of your baby which means more protection from the sun.

Sun hats
Sun hats are great for keeping your baby's faces and ears shaded. We highly recommend you to get one with an under-chin strap. Most kids will constantly be trying to pull off their hats and throw them in the ocean.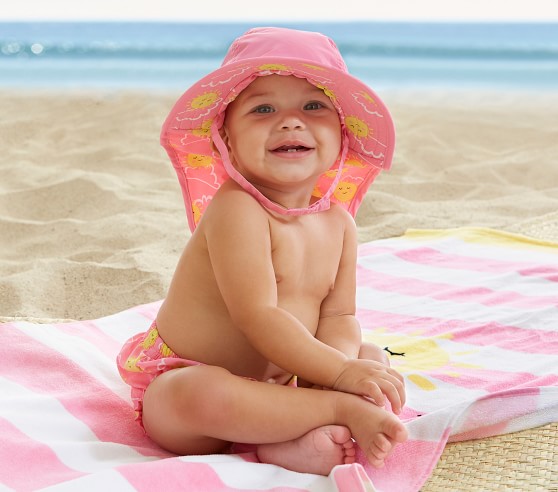 Floaties
Floaties make it safer for your baby to play in the water. Besides, they also give the little ones a little bit more confidence and independence. Of course, you definitely still have to watch/hold your kids while they are splashing and swimming.

Depending on your kid's age, you can get them inflatable floaties, swim vest, or puddler jumpers

A Change of Clothes for Baby
Young children tend to get rashes if you leave them in wet clothes for too long. So if you're planning to let them nap in a shady spot on the beach, it's a good idea to change them into dry clothes first.
Beach shoes
It's really torturing to walk on hot sand with bare feet. So in case you want to do some walking with your toddler, make sure you prepared some shoes for them. Water shoes are great because they can leave them on the whole time.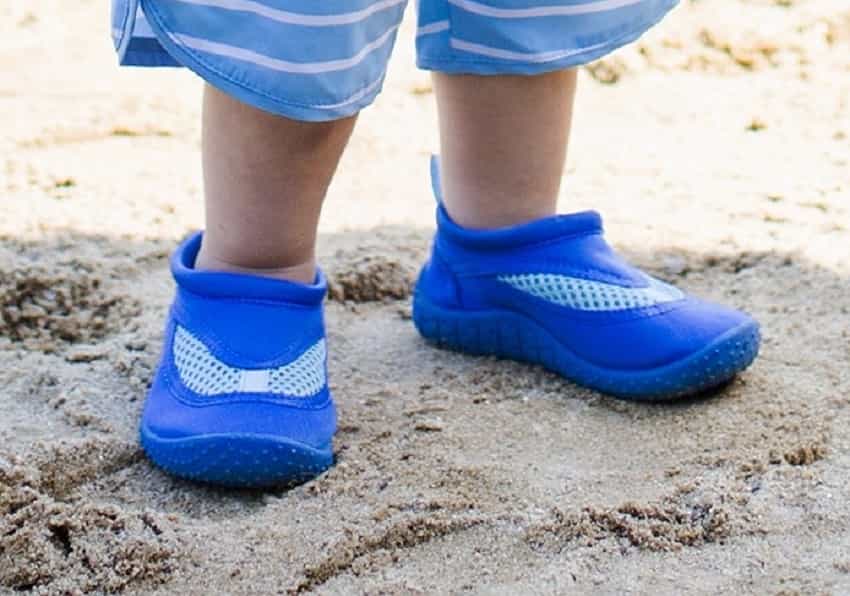 Swim diapers and wipes (with a plastic bag, for diaper changes)
You will probably need to do a diaper change in the sand. Have an extra swim diaper and some wipes ready, as well as a wet bag or plastic shopping bag for dirty diapers or wet clothes.
---
There you go, now you have our essential kit you need for the trip to the beach with your toddler. Do you have any other recommendations? Let us know in the comments!